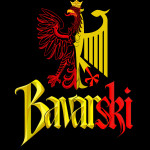 Bavarski (pronounced – Ba-vare-ski)
What do you get when you mix when you mix one of the hottest polish jazz organists,  one of the most versatile polish drummers around, and a polish opera singer?  New York City's newest polka sensation – BAVARSKI! Of course, these aren't just any musicians putting on lederhosen and pumping out Roll Out the Barrel!! Ron Oswanski grew up with an accordion in Toledo, Ohio long before he learned about bebop—listening and playing with his father's polka band.  Also hailing from the land of Mud Hens – Eddie Biegaj, was singing polish folk songs with his concertina and accordion while starting an early journey into polka superstardom as a founding member of the Grammy nominated Toledo Polkamotion, after getting his formal classical voice training. Add the booking talents of another polka Grammy nominee, Alex Meixner and you have a band that has the old souls of polka men, the full repertoire of a rocking party band, and the sophistication of jazz cats….
Check out BAVARSKI for your next Oktoberfest, Polka Party, Biergarten or Dance Event… You will have fun.