Eddie Biegaj – Eddie is a trained opera tenor by University of Toledo Professor Tom East.  He is also a trained drummer and self-taught accordionist and concertina player.  He has been in several short operas.  He has also played the role of Moonface Martin in the musical Anything Goes and the Zigfield Tenor in Funny Girl. He currently lives in Belvidere, NJ with his son "Edziu".  His daughter Krystal Rose Biegaj-Romanowski is married to Danny and they have a baby girl Sadie, while 2nd daughter Keszia Lorraine Biegaj-Perez lives with her husband JJ, daughter Jaiden, with one on the way, in Hawaii.
Eddie has spent almost 40 years performing polka and a large variety of music styles. His voice led two Toledo based groups, Crusade and Toledo's Polka Motion, to the pinnacle of polka music. A trained opera tenor, Eddie has been called upon to utilize his powerful voice in musicals, jazz combos, operas, rock, pop, church cantor and, of course, polka.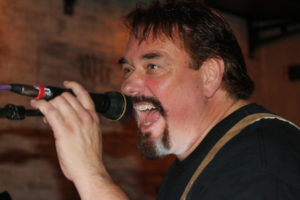 Starting on drums, Eddie won his school's talent contest in the 4th grade. His professional career began the following year in his home town of Toledo, Ohio. As his love for polka grew, so too did his musical tastes. In the 8th grade, he asked his father for an accordion (the Giulietti he still plays on stage) for Christmas. Concertina followed. Performing with several bands he eventually landed his first recording gig at the age of 18 with the Troubadours. Next it was move to accordion and two years with The Holy Toledo Polka Stars. Eddie was a founding member of TPM. His voice and arrangement on "Red Berries" helped TPM receive a Grammy nomination. In 1996, Eddie joined forces with his long time friend, Randy Krajewski, and Crusade was born. Eddie turned down an opportunity to sing opera in Germany to stay with his first love…..polka. He has won Male Vocalist of the Year from both the USPA and IPA and has received numerous other band awards.
In 2007, Eddie left Toledo and moved to Belvidere, New Jersey for steady employment. He folded Crusade that same year. Currently, Eddie is a cantor at two churches in Northwest New Jersey and is an active member at the Bayway Polish Club in Elizabeth, New Jersey. He has two daughters, Krystal and Keszia and one son, Edziu.
Ron Oswanski – Oswanski has been keeping company with formidable musicians for more than two decades. Since entering the jazz big leagues in the early 1990s as a teenager recruited by Maynard Ferguson's Big Bop Nouveau Band, he's collaborated with some of jazz's most creative figures, performing with the Maria Schneider Orchestra, Tim Ries and The Rolling Stones Project, Jack Wilkins and Mike Clark, Milt Hinton, Myron Walden's Countryfied, Dave Berger and the Sultans of Swing, as well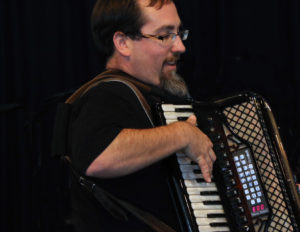 as popular music icons The Temptations, Aretha Franklin and Blood, Sweat and Tears. Vibraphone master Dave Samuels, the driving force behind the Grammy Award-winning Caribbean Jazz Project, launched the Organik Vibe Trio several years ago as a vehicle for collaborating with Oswanski, leading to the enthralling 2010 session Moscow. He also plays widely with Israeli guitarist Oz Noy's trio with drummer Nate Smith, the Dan Willis Band with percussionist John Hollenbeck, guitarist Sheryl Bailey's Trio, and Carl Fischer's (Billy Joel) Groove Project.
Born in Toledo on March 17, 1974, Oswanski started serious piano studies as a child with Mark Kieswetter, an Ohio jazz legend whose credits include gigs with Zoot Sims, Jack Sheldon, James Moody, and a three-year stint as musical director for Jon Hendricks. At the same time, Oswanski got intimately familiar with the accordion, often performing with his father's polka band. He started gigging widely as a precocious high school pianist, receiving invaluable experience.  The accordion, around 1994, became an obsession.  Learning the technical workings of the instrument quickly became more interesting than anything piano related.
Ernie White
Like the sign on the bridge from New Jersey to Pennsylvania, what "Trenton Makes the World Takes", Ernie White has taken his music from his small home town to the world stage.
Born and bred in New Jersey, Ernie honed his musical skills in the same juke joints as Bruce Springsteen and Bon Jovi. He first picked up guitar at the age of ten and wasted no time starting a band. By twelve, Ernie was playing and singing in local groups in his home town of Trenton, NJ. In bands with names like "Wind" and "Holy Smoke" he built a solid name for himself as a local rocker, one to keep an eye on.  He played guitar in his high school jazz band and went on to Trenton State College.
His first "big break" came when he was asked to join the New Jersey super group "Sam The Band". Ernie's duties with "Sam" included: lead vocalist, guitarist and songwriter. He recorded one record with Sam for the infamous Casablanca Record Label.
His next climb up the Rock and Roll ladder was with the group Aviator. This hard rock group signed a management deal with entertainment mogul, Tommy Mottola and a recording contract with RCA Records. With Ernie as front man, guitarist and writer, the group released its self titled record in the late 80's to much critical praise. The record was re-released on CD in 1997 by the English label Escape Records.
After his stint with Sam the Band and Aviator, Ernie decided to go solo releasing a series of CDs. His first CD, "Scenes From America' was produced by Grammy nominated producer, Tom Marolda and was later re-released in Europe on the MTM label.  His follow-up CDs were recorded at Ernie's 24 track studio and they include:  "Rude Awakening", "Unplugged", and "Rock and Rarities".
Ernie's style can be summed up in one word, "eclectic". With his band, Tom Reock on keys, Frank Wirtz on bass and Marty Paglione on drums, they serve up a virtual musical jambalaya.  On any given night, EWB can combine rock, blues, folk, jazz R&B and reggae for one wild ride.
In addition to his solo career, Ernie has become a sought after singer, songwriter, producer and studio musician. He has produced and performed songs for network television, written for artists such as Richie Sambora from Bon Jovi and has sung on a major motion picture release.
Besides touring with his band, Ernie splits his time these days between recording, teaching guitar and song writing.
Wayne Dunton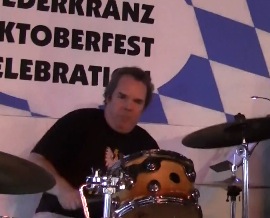 Wayne Dunton is a New York based drummer who has enjoyed a diverse career as a professional musician for almost 30 years. During that time Wayne has kept busy playing for numerous Broadway shows including Cats, Lion King,  Music Man, Annie Get Your Gun, Hairspray, and Billy Elliot, among others. Wayne also played for the National Tours of 101 Dalmatians and Hair. In the jazz genre Wayne has performed and recorded with alto sax great Richie Cole's Alto Madness Orchestra, appearing at such venues as The Jazz Standard in NYC, The Cape May Jazz festival in NJ, and the Kristianstad Jazz festival in Sweden. Wayne can be seen performing with the NY ska band Mephiskapheles and heard on their recent self titled EP. A particular career highlight for Wayne was a 2014 performance at Carnegie Hall with Ladysmith Black Mambazo featuring bassist Bakithi Kumalo, and special guest Dave Mathews, in a celebration of South African music. Wayne hopes to continue on this musical journey by playing the many different styles of music that he's fortunate enough to encounter.
Marko Marcinko attended The University of Miami, Coral Gables, Florida, and gained an enormous amount of schooling in classical /ethnic percussion, drum set, piano, and arranging/composing. While at Miami he had the great fortune to study with one of the best music faculties in collegiate music education. During his time performing with the University's top concert jazz ensembles, Marko had the chance to play with some of his greatest musical jazz mentors/performers, such as; Joe Henderson, Red Rodney, Michael Brecker and Paquito D'Rivera. For the past 11 years Marko has been a member of the Dave Liebman group as well as the Dave Liebman Big Band and is featured on numerous recordings with both. He also has toured and recorded with Maynard Ferguson's Big Bop Nouveau . Marko currently is artistic director of the Scranton Jazz Festival and
leads the PA Jazz Alliance which promotes, jazz in North Eastern Pennsylvania and through out the state.